About
What I didn't realize was that he was the real deal: a self-taught, self-motivated prodigy who works wonders in the kitchen… All-in-all, this was such a brilliant meal–it revealed so much talent–it's astonishing to me that Andy is both: (1) self-taught; and (2) only 25 years old.

Amateur Gourmet Blog
He is a boy genius because he is: a) young and b) a genius. Duh. Honestly, he is a self-taught cook, incredibly intelligent and intuitive in the kitchen and is a relentlessly inquisitive student of food.

Brunellos Have More Fun Blog
I'm approaching the world of food from an unique angle. I worked for years in the animation industry. It was a career path I enjoyed and was good at, but I had a second passion simmering in the background. I spent much of my free time playing in the kitchen, preparing meals and throwing dinner parties for my friends. Elaborate dinner parties, like my honey tasting dinner.
I quickly discovered my confidence and competence in the kitchen, but I wasn't prepared to make a leap into doing it as a job.
Until an outside force pushed me into it. My bosses, knowing of my love of cooking, decided that they wanted to build a kitchen in the animation studio and pay me to cook for the rest of the crew.
Of course, the reality of this was much less glamorous than it sounds. I actually had to help build the kitchen: paint walls, finish wood work, find used appliances and buy cookware. I cooked my way, but on a budget while also trying my best not to compromise my standards. I had to react to the needs of my audience. I had to wash giant piles of dirty dishes. It was a huge challenge with relentless hours.
It was an incredible time to learn and grow. I experimented endlessly in the kitchen and got lots of immediate feedback on my work. These resources allowed me to throw a huge dinner party for my 25th birthday. 25 "Tastes". 25 people, 25 years.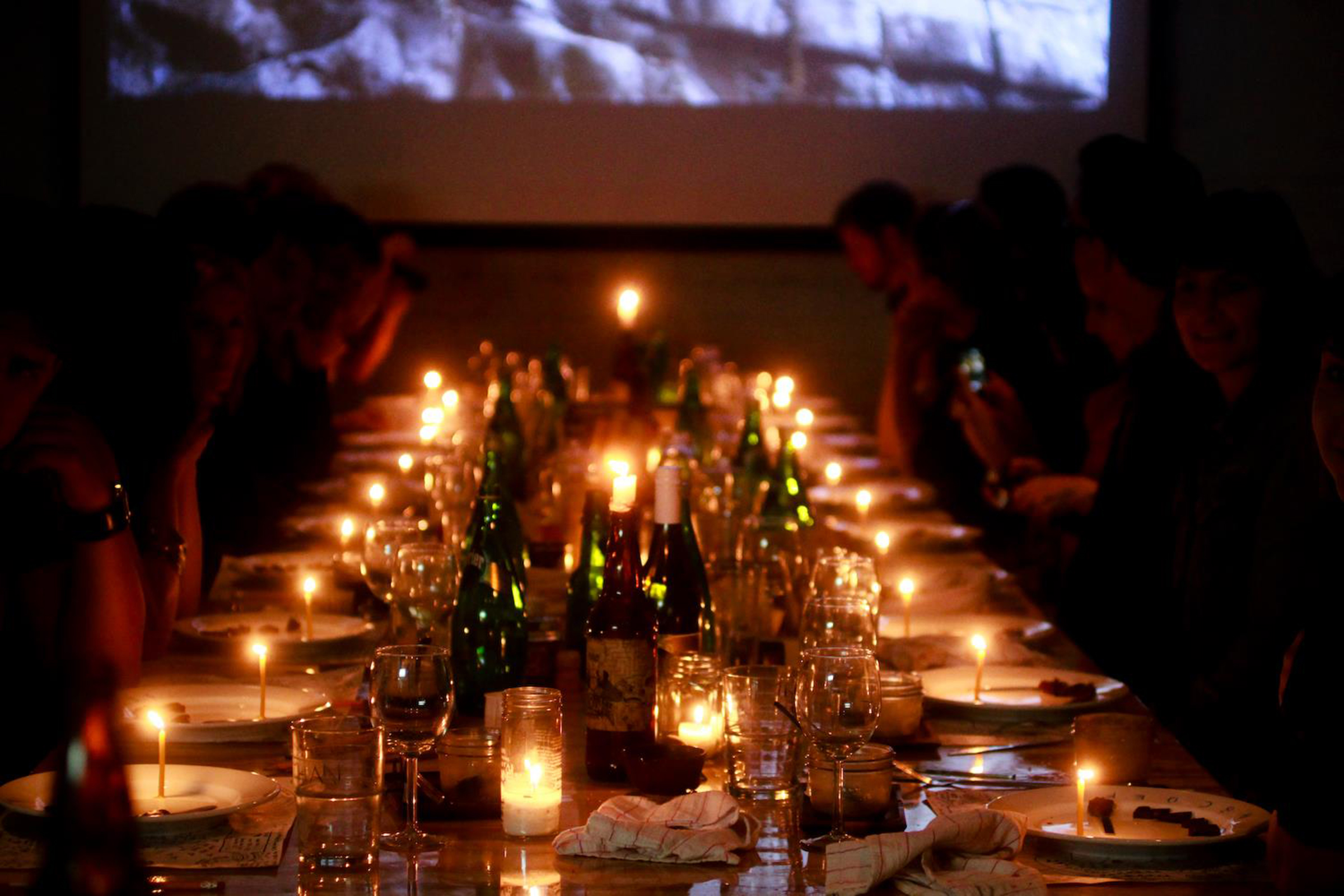 I've been a featured guest four times on comedian Doug Benson's food podcast Dining with Doug and Karen on Nerdist.com and iTunes. These experiences gave birth to creations such as the Jackalope Taco, Count Chocula Ice Cream and Smoked Chocolate Cigars.
"I'd like to call the show from now on 'Dining with Doug ANDY Karen'… we'll get other chefs on here, but the bar has been set…  I've never had anything like it, but it's everything that I'd want in something."

Doug Benson
 "This is one of the best meals I've ever had."

T.J. Miller
"There's a crazy party going on in my mouth right now… might be the best meal of my life."

Sarah Silverman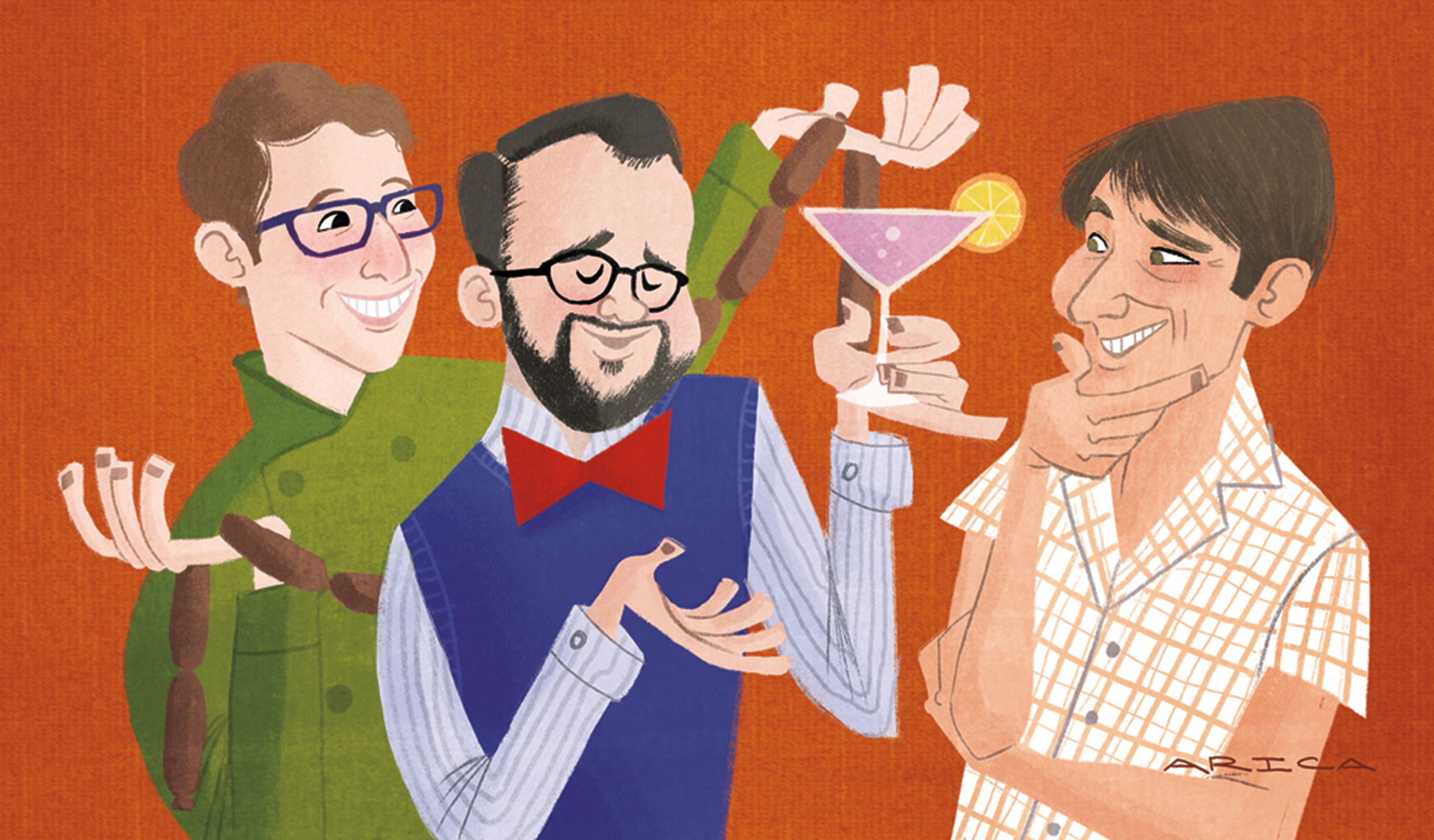 I also co-host a food podcast called The Table Set with my friends, Greg and Nathan. In each episode, we explore a party theme and talk about all kinds of ideas on food, drink and entertaining. We've even thrown quite a few parties ourselves.
Like Poker Night:
Feast of the Seven Fishes
Valentine's Raclette Pajama Party
You can catch up on all episodes of The Table Set on iTunes or homefries.com and check out more of my food adventures and recipes on my personal blog at windattack.com.